Sunday March 21st 2021 O.I.F. produced our 27th Annual Easter Basket "Karma Yoga" event.
With 12 Amazing Volunteers – All Wearing Masks and on our front lawn here at O.I.F. HQ – We created "Easter Basket Making 'Kits' !" as an ALTERNATIVE to serve 2,050 individuals since we couldn't gather 50 – 100 volunteers in an enclosed space due to COVID-19. On Mon., 03/22/21, we delivered the "Kits" to our 24 "Community Partner" facilities as we "Traversed The Hinterlands" while criss-crossing "The Highways and Byways" throughout Los Angeles County!
KARMA YOGA ROCKS !! JOYOUS VERNAL EQUINOX / SPRING / EASTER / PESACH / OSTARA – However you celebrate RE-BIRTH !!!!
---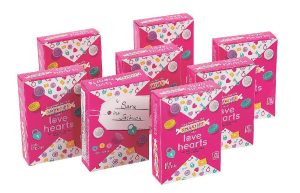 HAPPY 2021, O.I.F. VOLUNTEERS! 💓
This Weekend, O.I.F. is producing our "alternative" Valentine "Karma Yoga" event. A small group will be joining us on Sunday, 01/31/21 at our O.I.F. HQ here in Culver City – Outside & Wearing Masks !
Due To COVID-19, we are also providing the project supplies to volunteers to work from their homes instead of joining us on Sunday!
Instead of our Old-Fashioned, Handmade Valentines (with construction paper, etc.), we are customizing classroom size pre-fab valentines and envelopes, O.I.F.-style!
We will deliver 1,800 of these valentines plus an individual box of "Smarties" valentine conversation "hearts" for each person or child at our various "community partner" facilities.
Then, the next week, we will be "Traversing The 'Hinterlands' !" and the "Highways and Byways of Los Angeles County" – AS ALWAYS !
STAY SAFE ! And, please remember … KARMA YOGA ROCKS !