---
Our focus is on Los Angeles County where we serve the elderly, the homeless, children whose lives have been impacted adversely by HIV / AIDS, and children who are abused, neglected, abandoned, orphaned, runaways, learning-disabled, at-risk or disadvantaged.
---
26th Annual Homeless Feeding & Banner Creation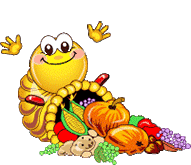 Help us open cans, stir, cut, chop, mash, slice, bake, ladle, draw, color, be artistic, package, deliver, serve and INSPIRE!
Program Description: Volunteers will assist in preparing over 1,600 full Thanksgiving-style meals and will create over 24 free-form, artistic, "from-the-heart" banners for numerous homeless shelter residents at over 18 shelters. This project benefits homeless families and veterans in Los Angeles County.
Volunteer Role & Responsibilities: Volunteers will prepare over 1,600 meals, create 24 artistic and uplifting banners, assemble and package meals, deliver and serve meals at shelters, and clean-up prep facility. Volunteers may also bring cooked turkeys on the morning of the event.
Time Commitment: 3 hours.
Requirements: No special skills or experience required except an open heart and playful spirit! Please note that there is a minimum donation (participation fee) of $ 5 to volunteer at this event. If this donation is a hardship, we will waive the participation fee on a case-by-case basis. Please let us know.
Benefits: We bring the HOLIDAYS to those who may not otherwise celebrate such ~ whether by intention, lack of means or circumstance ~ due to homelessness, loneliness, despair, apathy, disabilities, poverty, lack of family, or perceived lack of deservedness. Volunteers will help a less fortunate or disadvantaged child or homeless adult feel that they are deserving and worthy of attention, care and celebration. And, enhance and strengthen their self-worth and dignity.
Saturday, November 30th, 2019
6:30 am – 8:00 pm
Westchester Masonic Center
7726 West Manchester Avenue, Playa Del Rey
West of Lincoln Blvd., Just east of Saran Avenue
Enter via parking lot behind center
PREPARATION OF MEALS & BANNER CREATION: 6:30 AM – 1:00 PM
(Continental Breakfast Provided)
ASSEMBLY & PACKING: 1:00 PM – 4:00 PM
DELIVER, SERVE & CLEAN-UP: 4:00 PM – 8:00pm
WE CAN USE THE FOLLOWING:
TURKEYS Cooked at your Home! (Well-cooked, 18-25 lbs.) delivered to us (minus drippings please!)
Pies, Rolls, Juice Boxes & Waters
Have a Van or Truck for Delivery? Please let us know!
Event Participation Fee : Minimum Donation = $ 5
Homeless Feeding Event Gallery
---
Reflections On The Passing of Linford "Chip" Dawson
by P.J. Schumacher, Executive Director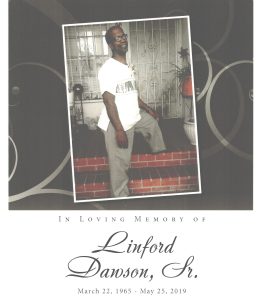 Today, I reflect on the passing of someone very dear to me, Linford "Chip" Dawson.
My history with the Dawson family goes back to 1993 when Louise was the bookkeeper and office manager at Mark The Carpetbagger.
She and I developed a close friendship and I then became involved with the entire family.
From the moment that I met Chip, I was touched by his easygoing and heartfelt humility, kindness and a desire to make a difference in the community.
Soon after meeting the family, myself and some others established a brand-new, "ground floor" charity, One Incredible Family Inc., from scratch ! We had no sponsoring body, no parent organization, no government grants.
The Dawson Family became deeply involved with our charity and Chip was very committed to the what we refer to as "Karma Yoga" …… The discipline of being "in service" and giving "of service" !
He provided logistical support to our events for 25 years particularly our annual "Homeless Feeding and Banner Creation" where we currently prepare 1,600 full Thanksgiving-style meals and 24 free-form, "From The Heart" banners and then deliver and serve to 24 different shelters throughout the County.
Chip was always there to "lend a hand" and transport the project supplies, etc.
He and the family also served the residents at various shelters throughout the years.
In addition, I also served as the family's accountant and … early on … learned of an incentive program through the City of Culver City which allowed them to purchase their lovely home in 1995.
And, when the boys were in their late teens – back in 2009 – I sponsored / nominated them for the Tavis Smiley 100 Young Leaders of the Decade program and they were selected.
Chip and Louise beamed with pride at that celebratory banquet and I shared in that special honor for the whole family.
That's the key here ….. Chip was MY family in the TRUEST sense of the word. FAMILY was key to him but not just his IMMEDIATE family, NO. He and I shared the same definition of FAMILY.
Chip Dawson was my "brother from another mother" and we both acknowledged that over 25 years of shared mutual gratitude, respect and admiration.
There were many "challenging times" – ups and downs – and we were there for each other. It was an honor to have them as guests at my Son and daughter-in-law's Wedding in June, 2013.
As Peace Pilgrim would oft say, "He Has Made His Glorious Transition To A Freer Life."
Rest Well, My Brother. YOU HAVE EARNED IT.
I leave you with these lyrics from the famous Diana Ross song which exemplifies who Chip was to me ……
Take a little time out of your busy day
To give encouragement
To someone who's lost the way
(Just try)
Or would I be talking to a stone
If I asked you
To share a problem that's not your own
We can change things if we start giving
Why don't you
Reach out and touch
Somebody's hand
Make this world a better place
If you can
Reach out and touch
Somebody's hand
Make this world a better place
If you can
If you see an old friend on the street
And he's down
Remember his shoes could fit your feet
(Just try)
Try a little kindness you'll see
It's something that comes very naturally
We can change things if we start giving
Reach out and touch
Somebody's hand
Make this world a better place
If you can
Reach out and touch
Somebody's hand
Make this world a better place
If you can